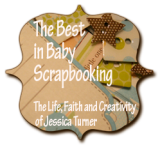 For all you scrapbookiers out there you have got to check this out!!! Lori I know you'll be running to this :)
Jessica
is hosting The Best of Baby Scrapbooking this week in which she is featuring one or two products a day which will also results in daily giveaways that will be revealed next week! All you have to do is comment on her post and you are entered to win..plus if you post her button on your blog you'll get an extra entry!
How much better does it get?
Enjoy everyone...Jessica is extremely talented and oh how jealous I am of her and the time she gets to dedicate to scrapbooking right now!!!