I have seen this little meme the past couple of Fridays and thought I would start participating.
Mama M.
over at My Little Life hosts this weekly blog carnival so head over to her blog and join in. It looks like a lot of fun!!!!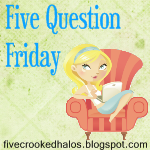 1. What are you most afraid of?
I am absolutely terrified of bugs. Especially spiders and most specifically jumping spiders! If I see one in a room I'll shut the door and not go in that room again until my husband gets home and can kill it for me. Absolutely TERRIFIED! I mean really this world could be just as pleasant and spin on its axis if we didn't have jumping spiders-aren't spiders bad enough without having the capability to jump on us. YUCK!! Gives me chills just thinking about them!
2. Do you use a flat iron or curling iron?
I don't use either. I was cursed with naturally curly hair and the texture is so coarse that a flat iron is a disaster waiting to happen. If I haven't said it before I hate my hair!
3. Hands-free or phone to the ear?
Phone to the ear. I've never owned a bluetooth though I do use the speaker at times on my phone. I've thought about getting my husband one though so if you have one and have likes or dislikes let me know so I can look into it for him.
4. Do you have a matching bedroom set?
Yes. Sleigh bed and I adore the style of it. I always wanted a sleighbed so that was the first thing I looked at it. I would love to get a better quality one though one day.
5. Do you believe in the paranormal?
I don't and my mom will think I'm insane. She loves stuff like that and completely believes in it. I think it's spookier to me to think it's true so easier to deny it.
This was fun! I'll definitely be doing this again next week so head over and join in!!